http://ctat.roanestate.edu/ed-tech-academy-2019/
Ed Tech Academy 2019
Keynote Speaker: Dr. Jennifer Herman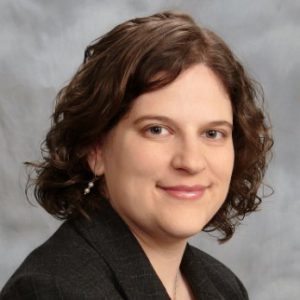 Dr. Jennifer Herman is Director of the Center for Excellence in Teaching and Associate Professor of Practice in Education, at Simmons University. She has developed, facilitated, and overseen hundreds of research-based faculty development programs around teaching and scholarship. Jennifer's presentations, workshops, and research focus on faculty development programs and Center development, course design, teaching strategies, learning theory, teaching for inclusive excellence, student learning outcomes assessment, and online education. Her publications include Creating Engaging Discussions: Strategies for "Avoiding Crickets" in Any Size Class and Online (Stylus, 2018; with L. Nilson). In her faculty role, she teaches courses on teaching, learning theory, and curriculum development for the Health Professions Education CAGS and doctoral program. Jennifer holds a Ph.D. in Higher Education from the University at Buffalo and a M.A. in International Training and Education from American University.
Sessions
What's the Secret to Creating Classroom Discussions that Work? 
While effective pedagogical tools, class discussions can be frustrating. They can easily go awry, leading to a variety of problems with engaging students: uncomfortable silences, uneven participation, inattention, the domination of a couple of speakers, superficial contributions, or off-topic remarks. In this workshop you will learn—and experience first-hand—many strategies for preventing and responding to these discussion pitfalls, including those relevant to small classes, large classes, online courses, and a variety of disciplines. In addition, you will explore research-based principles for designing and facilitating effective, learning-focused discussions in which all students participate, whatever the class size. 
Presenter: Jennifer Herman, Ph.D.
Connecting Discussion with
Learning 
Once you get students engaged in discussion–whether in-person or online–how can you ensure that they're learning? Many discussions face problems that lead to a lack of learning, such as superficial or off-topic comments, students not listening to each other, and comments based on opinion rather than supported by data. In this session, you will learn how to prevent these common problems by considering factors that impact how you design the discussion. After participating in a "mini-simulation" on discussions and learning, you'll participate in a structured activity to design a discussion for your course so that it truly helps students learn.  
Presenter: Jennifer Herman, Ph.D.
Differentiated Instruction: Design for all Students
This session provides an overview of differentiated instruction and tips on applying these principles in the classroom.  Students respond best to individualized instruction, understanding that their teachers know who they are and what particular challenges they may face in succeeding in college.  Designing courses according to the principles of differentiated instruction enables faculty to always keep in mind whom they are teaching and to always be mindful of how they present the content.  This approach ensures that a solid curriculum is delivered in such a way that each student can acquire the necessary skills and master the course objectives in the way most meaningful to that individual.
Presenter: Susan Sutton, Ph.D.
Community of Inquiry
The Community of Inquiry (CoI) model emphasizes creating an effective learning environment where students feel a connection with other learners and the instructor, and engage in well-designed collaborative learning activities. In this session, you will learn how to promote a sense of community in traditional, hybrid, and online courses that provide opportunities for student engagement and collaboration. Garrison's Community of Inquiry Model will provide a focal point for discussion. We will identify how we are currently implementing COI and strategize how we can continue to implement best practices and positive interactions that increase student retention.
Presenter: Stephanie Shipley, M.S.