News & Events 
Ed Tech Academy 2014
Ed Tech Academy 2014 will be held Tuesday, May 13th and Wednesday, May 14th at the Harriman campus. Time: 8:30 am – 3:30 pm each day in O'Brien 101. Ed Tech Academy is a free event and lunch is provided.
This year's event is focused on Engaged Teaching Activities.
Keynote: Dr. Mark Taylor
Sessions:
The Adobe Connect Experience: Connect, Communicate, Collaborate!  Experience the Adobe Connect virtual classroom from the student perspective! The workshop hosts will lead an interactive session that features a wealth of communication and collaboration tools that support student engagement and learning.
Engaging Students Using Interactive Video and Assessment in Online Learning  Experience how the EdX platform seamlessly integrates interactive video and assessment into courses.  Also, discover what tools are available to create interactive content for use in your current D2L courses.
Google Wars and the Search for Higher Order Involvement  

This session asks participants to explore Blooms Taxonomy as a framework for active learning in their classroom. Participants will gather information about higher order learning through a Google War and then will compare and predict the use of those activities through group work.

Inverted but Involved: Flipping the Class a Learning Environment for Engaged Activities and Deeper Learning 

 
Ed Tech Academy is Roane State's annual professional development event to explore ideas about using technology in the classroom. Join us for fun, inspiring, relaxed exploration of how classroom technology can help you engage your students.
Please register for Ed Tech Academy here.
CTAT Tech Medic Tour
CTAT Tech Medic is coming to a campus near you!  Ronda is on the Scott County campus Tuesday, April 22nd and Wednesday, April 23rd, from 8:00 am – 4:00 pm.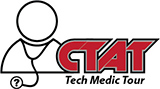 Engaged Learning Environment Scheduling
Are you interested in using the Engaged Learning Environment for your classes? You can now schedule the ELE by visiting the reservation page on the library's website. Bring your class over for just one class session or book it for the whole semester.
If you would like to know more about our Engaged Learning Environment then visit our FAQ page about this innovative space or contact us at ctatmailbox@roanestate.edu to schedule a time to visit this space and discuss how you can engage your students.
Please note: If you would like to utilize the iPad cart when using the ELE you must reserve the iPad cart by visiting the iPad reservation page on the library's website.
Law Library/CTAT Training Room Scheduling
Do you need a place to have your meeting, class, or study group?  You can now schedule the Law Library/CTAT Training Room by visiting the reservation page on the library's website.  This room is equipped with Airserver, a smartboard, and a computer so that you can project and interact with material as needed.
Teacher Tip Thursday
Grab your lunch and connect to a quick 20-30 min. webinar all in the comfort of your office or home.
CTAT, Library Services and the Learning Center have come together to offer some short 20-30 minute webinars (via Adobe Connect). If you cannot sit in on one of these sessions live, they will be recorded and archived so you will be able to access them at your convenience. So please mark your calendar and be ready for our Spring webinar series.
iPad 101
Now that CTAT has completed iPad basic and intermediate workshops on both the Harriman and Oak Ridge campuses we can see our faculty are utilizing this great tool in many ways. If you would like some assistance with your iPad please feel free to email us at ctatmailbox@roanestate.edu or call us at 865-882-4556 to set up an appointment. We will be glad to come to your office and help you with integrating the iPads into your teaching.
 Did you miss our Spring, 2014 In-Service sessions?
Top 10 Changes to D2L version 10.3
See what the top 10 changes were and learn some tips and tricks for designing in version 10.3.

Assignment Grader
Have you ever been sitting somewhere wishing you had access to wi-fi so you could grade a few of your student's assignments? With D2L version 10.3 and the new "Assignment Grader" app you can download your student's assignments on your iPad (with wi-fi connection), travel to a "no wi-fi" zone, grade those assignments (with your iPad and new Jot Pro stylus), then sync with D2L when you return to an area that has wi-fi. Checkout Assignment Grader to see how you can make grading easier.
Course Development Assistance
CTAT instructional designers will consult with you regarding face-2-face, online and hybrid course design. Also, we will assist you with developing multimedia materials including text, images, audio, video, animation, and interactive elements for use in instruction. If you need help with structuring your Momentum/D2L course or with hosting media files please contact us at ctatmailbox@roanestate.edu or phone (865) 882-4556.